1986 – Revenge of the krullhårig nobody
Dave Stewart är en sån där ocool typ som spottat ur sig både fantastiska och helt obegripliga låtar. Han har producerat Dylan, Petty och Jagger men ändå bryr man sig liksom inte. 1986 brydde jag mig dock jävligt mycket om Eurythmics album Revenge. Och framförallt denna låt:
http://www.youtube.com/watch?v=RWzRKxhpPA0
Och Stewart har gjort moderna mästerverk också (faktiskt) som denna: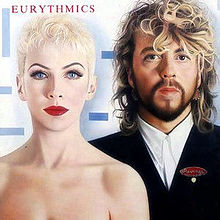 Tidigare i listan:
1982

1983

1984
1984 Redux

1985
Vad är det här för nåt?
Inlägget är en del av min autobiografiska musiklista. En lista över 80-talets bästa musik – om ni hade frågat mig det året det begav sig. Ett årtal om dagen ("typ") – en låt per årtal. 1982-1989.
Alltså från att jag var åtta till femton år.
Följ med på en magisk resa in i en tonårings hjärna för länge, länge sedan. Och lyssna.
Det fanns förstås en massa mer musik som spelades flitigt i pojkrum, på disko och på blandbanden i den gigantiska walkmanen. Tunga one hit wonders som skakade om min värld för att sedan ersättas av nästa one hit wonder.
Men jag valde ut några som jag (1) kom ihåg utan att behöva anlita en släktforskare och (2) på nåt vis betydde lite extra, i alla fall som jag minns det.