1983 – They did it better in the 80s
Min första rock-t-shirt har jag fortfarande kvar. Den valde jag ut som treåring på en marknad i Finland. Elvis Presley med motiv från Graceland och huset där han föddes (på bilden från i våras får Edvin prova klenoden).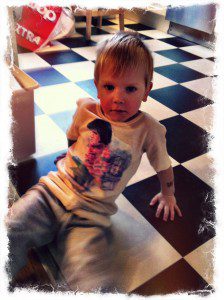 Den andra rock-t-shirten jag själv valde ut var en som föreställde en boxandes David Bowie från omslaget till Let's Dance (japp kids, vi hade STORA skivomslag förr i tiden). Favoritlåten från albumet var denna (och är fortfarande). Bowie själv säger att den är inspirerad av Little Richard. Kolla in scenshowen. They did it better in the 80s.
http://www.youtube.com/watch?v=e09dgunt_CI
Tidigare i listan:
1982
Vad är det här för nåt?
Inlägget är en del av min autobiografiska musiklista. En lista över 80-talets bästa musik – om ni hade frågat mig det året det begav sig. Ett årtal om dagen ("typ") – en låt per årtal. 1982-1989.
Alltså från att jag var åtta till femton år.
Följ med på en magisk resa in i en tonårings hjärna för länge, länge sedan. Och lyssna.
Det fanns förstås en massa mer musik som spelades flitigt i pojkrum, på disko och på blandbanden i den gigantiska walkmanen. Tunga one hit wonders som skakade om min värld för att sedan ersättas av nästa one hit wonder.
Men jag valde ut några som jag (1) kom ihåg utan att behöva anlita en släktforskare och (2) på nåt vis betydde lite extra, i alla fall som jag minns det.