http://youtu.be/gzGRhxAkHPk
1989 – The Daisy Age
Så var det dags att börja pendla från Nynäshamn till Stockholm, gå på Groove records och köpa tolvor som om det inte fanns någon morgondag. Anledningen var att 1988 släppte Public Enemy It takes a nation of millions to hold us back. -89 kom De La Souls 3 feet high and rising. Det var helt enkelt omöjligt för en ung tonåring att inte börja gå omkring i Adidas-jacka med hemmagjord graffiti på ryggen. Addera Run DMC, Eric B & Rakim, NWA, A Tribe called Quest och EPMD och det var "mad respect" från morgon till kväll.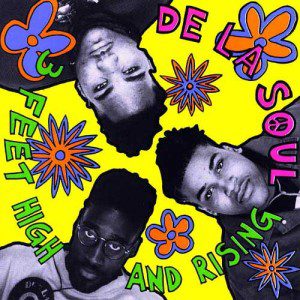 Tidigare i listan:
1982

1983

1984
1984 Redux

1985
1986
1987
1988
Vad är det här för nåt?
Inlägget är en del av min autobiografiska musiklista. En lista över 80-talets bästa musik – om ni hade frågat mig det året det begav sig. Ett årtal om dagen ("typ") – en låt per årtal. 1982-1989.
Alltså från att jag var åtta till femton år.
Följ med på en magisk resa in i en tonårings hjärna för länge, länge sedan. Och lyssna.
Det fanns förstås en massa mer musik som spelades flitigt i pojkrum, på disko och på blandbanden i den gigantiska walkmanen. Tunga one hit wonders som skakade om min värld för att sedan ersättas av nästa one hit wonder.
Men jag valde ut några som jag (1) kom ihåg utan att behöva anlita en släktforskare och (2) på nåt vis betydde lite extra, i alla fall som jag minns det.