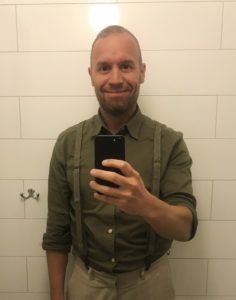 Namn: Robert Långström
Född: 1974
Är: Journalist. Content Director på Spoon.
Tidigare uppdragsgivare:
Café, Företagaren, Sportfack, Travelmedia, King, Chef, Redaktörerna, Praktisktbåtägande,
Tidningskompaniet, Utemagasinet, FOTO, PCGamer, Cinema, Swedish film, Modern Psykologi, Spoon.

Om mig
Uppväxt i Nynäshamn. Stockholmsbo sedan 1996. Läste Kulturvetarlinjen på Stockholms universitet och senare Journalistprogrammet på JMK i Stockholm. Redaktionschef och senare chefredaktör på Hjemmet Mortensen/Egmont AB. Först på tidningen PChemma, sedan startade jag och var chefredaktör för Din Teknik. Frilansjournalist under 2009. Är sedan maj 2010 content director på Spoon Agency.
Jag har en förkärlek för psykologi, innovation, entreprenörsskap, teknik, sport och populärkultur. Jag vet bland annat hur många gånger Diego Maradona rörde bollen med höger fot när han dribblade sig igenom halva det engelska landslaget i VM i Mexiko 1986: noll.
Väsentlig bakgrund:
1996-1998 Kulturvetarlinjen, Stockholms universitet, 160p. (Huvudämnen: filmvetenskap och Medie- och kommunikationsvetenskap)
1999 Praktisk svenska, Stockholms universitet, 20p
2000-2003 Långa journalistprogrammet, JMK, Stockholm, 140p
2003-2004 Redaktionschef, PChemma, Hjemmet Mortensen AB
2004-2006 Chefredaktör, PChemma, Hjemmet Mortensen AB
2007-2009 Chefredaktör, Din Teknik, Egmont AB
2009-2010 Frilansjournalist
2010- Content Director, Spoon, Bonnier AB
Utöver detta en mängd kortare inhopp och jobb åt bland annat DN, Mitt i, Dagens Samhälle, Skolverket, Nynäshamnsposten, Värmlands folkblad och Västerbottenskuriren.
Övrigt:
2005 Vinnare av Årets oneshot, Resumés tidskriftspris, med Allt om Poker.
2007 Nominerad till Newsdesks "Trendpriset" med Din Teknik.
2007 Nominerad till Årets nystartade tidning, Resumés Tidskriftspris, med Din Teknik.
2011 Tre nomineringar för Behind the Scenes i Guldbladet.
2013 Två nomineringar för DM-magasinet i Guldbladet.
2014 Fyra nomineringar i Guldbladet (Du&Co, Behind the Scenes och DM-magasinet, samtliga bästa kundtidning B2B, samt bästa omslag Du&Co).
2014 Vinnare i Guldbladet med Du&Co (Årets bästa kundtidning, B2B).
2015 Nominerad i Guldbladet med DM-magasinet (Årets bästa kundtidning, B2B).
2015 Nominerad i Svenska Designpriset med Behind the Scenes.
2016 Guld i världens största native advertising-tävling: Native advertising awards.
2016 Nominerad i världens största Content Marketing-tävling, CMA-awards.
2017 Silver i Swedish Content Awards.
2017 Nominerad till Svenska Designpriset med DM-magasinet #2/2017.
2018 Nominerad till Svenska Designpriset med DM-magasinet #3/2017.
2019 Silver i Svenska Designpriset med People by PostNord.
Vad har jag skrivit?
Tyvärr hinner jag inte skriva så mycket, men du kan läsa ett urval av artiklar jag skrivit och se filmer jag gjort på startsidan. Sortera mellan Artiklar och Krönikor i menyn till höger (på desktop).