SÅ VAR DET INTE TÄNKT:

T-shirten togs fram som en undertröja för grovarbetare. Sjuttio år senare får entreprenörer betalt för att bära dem.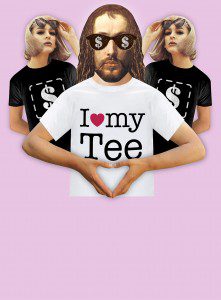 Vad var det för fel på en union suit? Den kroppsstrumpa till underklädsel män bar på 1800-talet.
Ja, ganska mycket. Den var varm, otymplig och ful. När den kapades till T-shirt och långkalsonger fick överdelen chansen till sin egen framgångsrika karriär. Men när amerikanska Fruit of the Loom lanserade det första massproducerade ­exemplaret 1871 var det få som brydde sig. Det användes som undertröja för arbetare med smutsiga jobb. Ett plagg man kunde visa upp när det blev varmt och som kunde få ta skiten så skjortan slapp.
När andra världskriget bröt ut gjorde amerikanska armén T-shirten till obligatoriskt underplagg. Life Magazine satte ett foto av stridande soldater i tropikerna på omslaget, endast iförda T-shirtar och kakibyxor, och plagget fick hjältestatus.
Resten är ärmlös historia.
69 år senare startade Jason Sadler i Florida, USA, företaget iwearyourshirt.com. Jason och hans fem medarbetare tar betalt av företag för att bära T-shirtar med deras logo, producera filmer och sprida logon och varumärket viralt via sociala medier. De har dessutom ett stort nätverk av potentiella T-shirtbärare.
Ett plagg designat för ett liv dolt under andra plagg är i dag – mer än någonsin tidigare – en bärare av budskap ämnade att synas så mycket som möjligt.
PUBLICERAD I DU&CO #3/2012